Instagram's new features updates add to the list of updates from top social media firms. After the launch of the Facebook messenger room, twitter updating its features the latest to hit the world of technology is the addition of a new feature to Instagram. Before getting into it let us look at brief information about Instagram
Instagram, one of the social networking services owned by Facebook Inc. It was launched in October 2010. Statistics show that Instagram has 26.9 million users as of 2020.
Now, a few days ago, Instagram launched a new feature that will assist people to manage multiple unwanted interactions at once.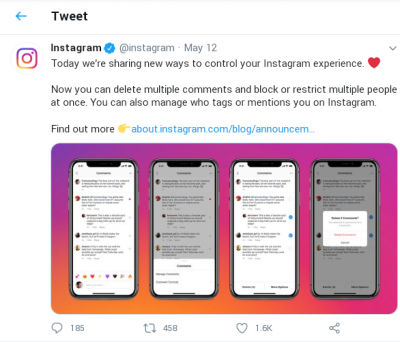 The following are steps one must follow to enable this feature on IOS,
-Tap on a comment and the dotted icon in the top right corner
-Select Manage Comments and choose unto 25 comments to delete at once
-Tap More options to resist or block accounts in bulk
5G Antenna Spreading CoronaVirus: What's the Truth?
How to delete comments on IOS Instagram app
Tap delete in the bottom left, and then tap delete comments
How to delete comments from the Android Instagram app
Tap on the delete symbol in the top right to delete the comments.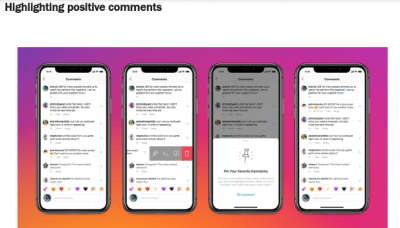 In cases where you want to block or restrict an account,
To block or restrict accounts on Android, press and hold on a comment,
Tap the dotted icon and select block or restrict.
HOW TO BLEND YOUR DIGITAL LIFE WITH RELATIONSHIP
One other thing is how to highlight positive comments.
The users have the advantage of setting the tone for their accounts and engage with the community by pinning a selected number of comments to the top of their comments thread.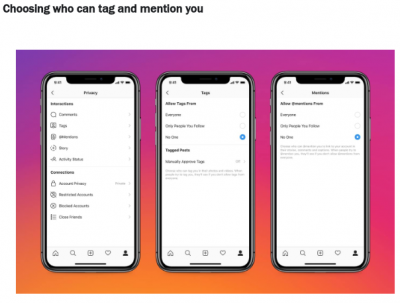 Tag and mention
Users can also choose who to tag and mention as to whether you want everyone, only people you follow or perhaps no one to tag you or probably mention you in a caption or story, comment
People who love Instagram will now have more reasons to.
If you enjoyed this article on Instagram new features  please share, subscribe to our newsletter, follow us on Facebook, Twitter, Google News, and  Instagram for more
Source: fifty7tech.com