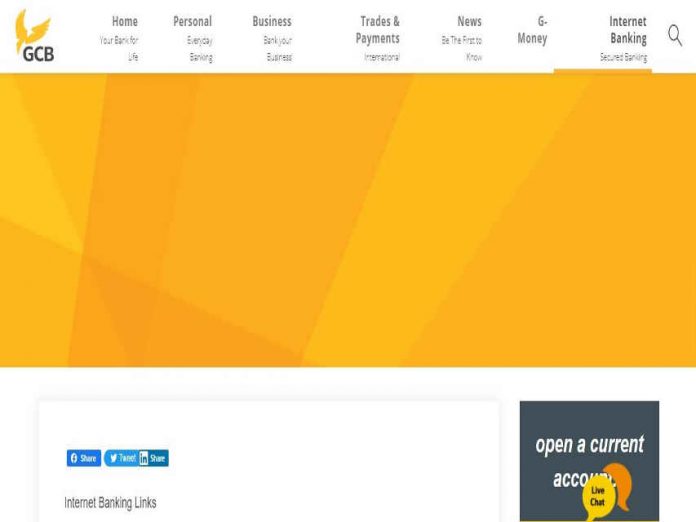 gcb internet banking
GCB is also known as Ghana Commercial Bank has been around for quite some time now, when it comes to the banking system in the country of Ghana, GCB has a track record of being one of the earliest banks.
As well as banking is concerned, there has been a load of innovation by various banks in the country and GCB isn't any stranger to these innovations, they have their hands on it too.
GCB Bank Ghana
One of these innovations is Online or internet banking, particularly by GCB Bank Ghana and we will walk you through it all.
Internet banking has made it easy for most banks to shift from traditional banking to a fintech way. And this article, we will guide you on GCB internet banking service.
GCB Internet Banking Features
There are several features available via the GCB online banking service, some of them are as follows:
You may check the balance of your GCB account at any time.
Take a look at your financial statement.
send money to relatives and friends.
you can pay your household expenses online with just a few simple clicks.
You can keep track of all of your financial transactions at any time of day or night.
Registration Requirements for GCB Online Banking
To qualify for GCB online banking services, you must meet the following requirements:
You must have a bank account with GCB to participate.
The full legal name of the customer
The date of birth on your birth certificate
A GCB electronic banking account is one step away if you have all of the required documents.
GCB Internet Banking Registration
You may apply for the Ghana Commercial Bank online banking service by following the procedures outlined below.
How to Register for GCB Internet Banking
Step #1: Prepare all of your papers and information in advance.
Step #2: Go to the website and fill out the application. A long list of PDF files will be shown, each with a specific purpose put next to it.
Step #3: Using the list of PDF files that will be displayed, scroll through them until you find and click on the Internet Banking application form individual, which will then be downloaded.
Step #4: Save the PDF file that was downloaded to a USB drive.
Step #5: Create a tangible copy of the form by printing it.
Step #6: Lastly, complete the printed form with all of the necessary information.
Step #7: Find the GCB bank branch that is closest to you and drop off the completed form there. Additionally, you may either fax it or email it to the desired location.
Be patient, since your application will be reviewed for more than 24 hours, so please be patient.
Step #8: Finally, after your application has been granted, you will get your GCB Internet banking login information by either an email or a phone call to the number you gave on your application form. When you have your account information, you may go to step
You are now a legitimate member of the Ghana Commercial Bank online banking system.
What do you need to do next after submitting your application? You must log into your freshly created online banking account.
GCB Bank login
GCB Bank Login, Now, that you have successfully registered. This is where you log into your newly created GCB online banking account.  In order to use your GCB online banking account, you must first log into your GCB account. Here are the easiest steps to take
How to Log Into GCB Online Banking Account
Here is the quick and easy steps to follow;
gcb internet banking login
Step #1: Access the Ghana Commercial Bank's official website by opening your chosen browser on your smartphone or computer and typing in this URL.
Step #2: Hover your cursor over online banking in the upper right corner and choose "Individual / Corporate."
Step #3: In the upper right-hand corner of the webpage, click on Login.
Step #4: Enter your Username in the appropriate field.
Step #5: Enter your password in the appropriate field.
Step #6: Select Login from the drop-down menu.
If this is your first time entering your GCB Bank account, you will want to take notice of the menu options.
To proceed, you must first agree to the Terms & Conditions and then change the password that you were given by them to your desired password.
GCB Internet Banking login steps are quite easy and you shouldn't have any problem with it going forward. Or yet still, if you do, coming back to this article wouldn't hurt.
How To Reset GCB Internet Banking Account Password
Password forgot is really common, and it happens to everyone. If you have forgotten your password you can reset it and create a new one in seconds so you can continue using your GCB online banking account.
Here are the steps for you to reset your GCB internet banking account password
Step #1: Log on to the GCB Internet Banking website, please take note that you visit the official GCB website.
Step #2: In the upper right-hand corner of the online banking screen, click on "Login."
Step #3: To reset your password, click on "Forgot password."
Step #4:On the next page that appears, follow the on-screen instructions to reset your GCB online banking password.
How To Check GCB Internet Banking Account Balance
Following the procedures outlined below will make checking your GCB online banking account balance a breeze:
Step #2: The login page will appear once you click on Login in the upper right corner.
Step #3: Enter your Username in the appropriate field.
Step #4: Enter your username and password.
Step #5: Select Login from the drop-down menu.
Step #6:Once you have signed in, go to the accounts page.
Finally, choose the account for which you want to check the balance of funds.
GCB Internet banking benefits
It is safe, secure, and simple to use.
Complete convenience: bank on your own schedule and have complete control over your funds.
You can access all of your accounts from any internet-connected device, anywhere around the globe.
Real-time access to all of your accounts.
Maintain a record of all account activity, including current transactions and up to six months' worth of history.
Sign up to get your bank statements through email.
Update your password and personal information.
Internet banking is offered to all GCB clients at no cost.
How do I register for GCB internet banking?
To get yourself registered for GCB internet banking service in Ghana, you need to be a customer of the bank and the next step is to yourself a laptop or a smartphone with internet to begin the process.
How do I check my GCB account on my phone?
To check your GCB account on your mobile phone here is how to go by it. You need to dial the short ussd GCB code (*422#) for banking and follow the prompt instructions to check your account.
Does GCB have an app?
the answer to "Does GCB have an app" is a big Yes. GCB like most banks in Ghana have apps for making banking easier for their customers. You can download the app through this link
If you enjoyed this article, please share this article, it will go a long way for us. Also, subscribe to our newsletter, and follow us on Facebook, Twitter, Pinterest, Google News, and  Instagram for more
Source: fifty7tech.com